The results of Forbes China's "2023 ESG Entrepreneur 30 in the Greater Bay Area" have been announced, and Su Ertian, Chairman of the Board of Directors of Global New Material International, has been successfully selected
2023-04-03
classification:Corporate News
Recently, the results of Forbes China's "2023 ESG Entrepreneur 30 in the Greater Bay Area" were officially released. Su Ertian, the founder and chairman of Global New Material International, was successfully selected for his outstanding performance in sustainable development!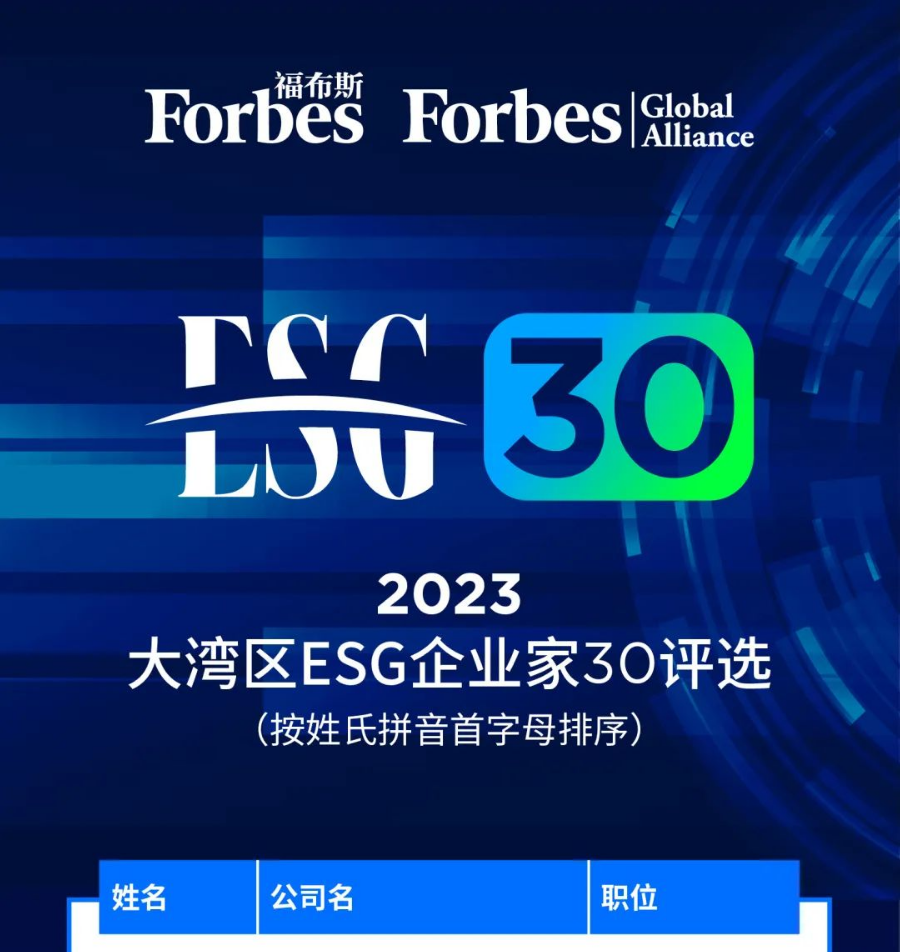 It is reported that the "2023 ESG Entrepreneur 30 in the Greater Bay Area" is a special selection event launched by Forbes China this year, aiming to select Greater Bay Area entrepreneurs who have achieved certain innovative results in ESG related fields and made positive contributions to sustainable development. The selection comprehensively evaluates the participating entrepreneurs from four dimensions: corporate leadership, industry foresight, innovation driving force, and personal influence. After strict screening and evaluation, 30 outstanding ESG entrepreneurs are ultimately selected. And they will become role models and benchmark forces for more enterprises and entrepreneurs, further promoting ESG investment and sustainable development in the Greater Bay Area.
As the founder of Global New Material International, Su Ertian has led the company for over a decade to strive for sustainable development and actively respond to the "dual carbon" goal. Su Ertian does not only provide customers with high-quality pearlescent pigments and synthetic mica products, but also emphasizes corporate social responsibility and employee welfare. Under his leadership, the company has taken various environmental measures to reduce carbon emissions and resource waste, established a sound management system and sustainable ESG responsibility system, and ensured the company's compliance and standardized operation. At the same time, the company actively participates in public welfare and social welfare, promotes employee self-improvement and growth, pays attention to employee training and development. Therefore, it has been awarded honors such as "National Green Factory", "National Model Employee Home", and "Healthy Enterprise".
Obtaining Forbes "2023 ESG Entrepreneur 30 in the Greater Bay Area" is not only a recognition for Su Ertian's achievements in sustainable development, but also a spur and encouragement for Global New Material International to carry out ESG work. The acquisition of this honor will further enhance the company's brand awareness and reputation, attracting more attention and support from investors and partners.
In the future, Global New Material International will continue to uphold the concept of sustainable development under the leadership of Chairman Su Ertian. It will continuously innovate and improve, and strive to become a benchmark for leading the high-quality development and transformation of ESG in the entire industry, creating greater value for customers, employees, and society. At the same time, the company also welcomes more investors and partners to join and jointly promote the green development and sustainable development goals of the pearl pigment industry.