Luzhai Chesir Mica company was awarded the title of innovative small and medium-sized enterprise in Liuzhou
2023-03-15
classification:Corporate News
Recently, Liuzhou Municipal Bureau of Industry and Information Technology announced the list of innovative SMEs in Liuzhou in 2023. The subsidiary of Global New Material International (06616. HK) – Luzhai Chesir Mica Material Co., Ltd. was recognized as "innovative SMEs" in Liuzhou by virtue of its outstanding performance in the professional field and industrial influence.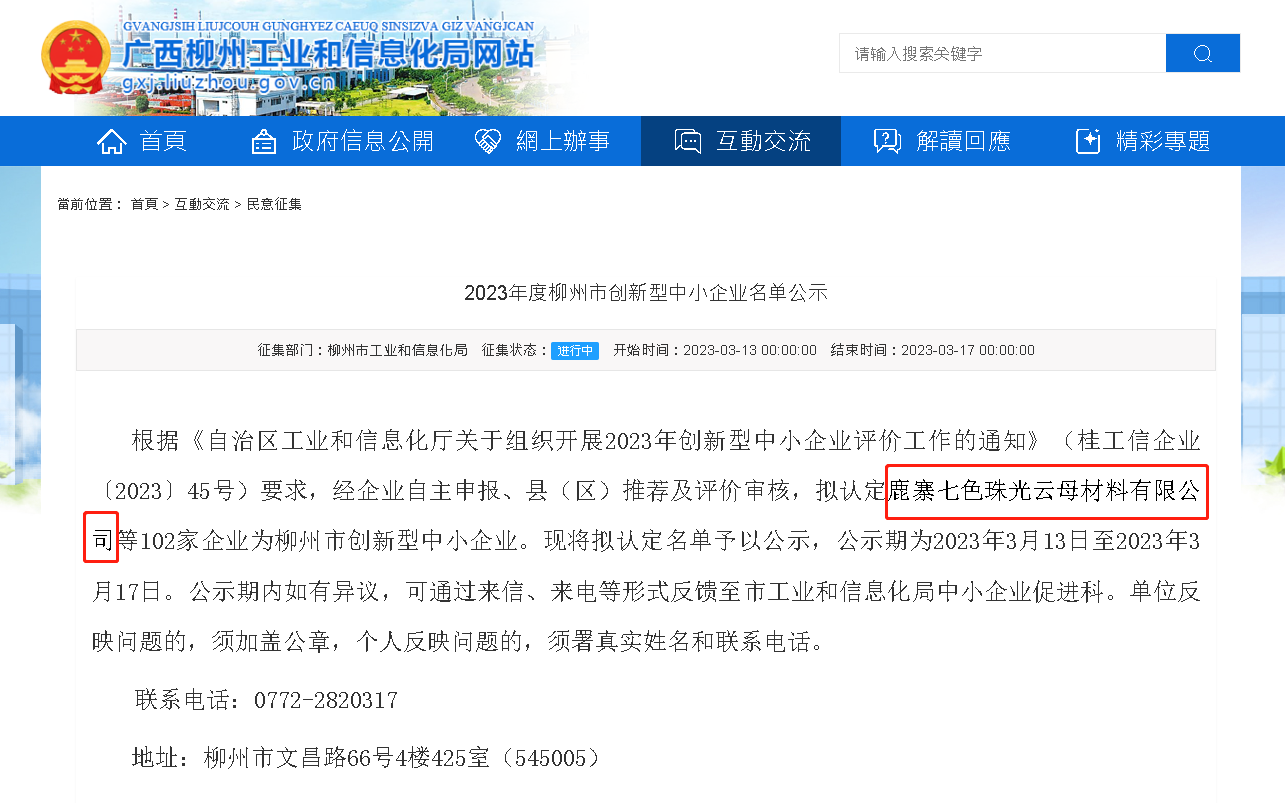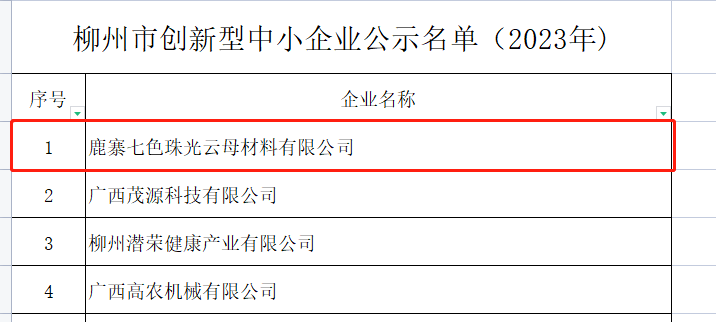 Luzhai Chesir Mica Material Co., Ltd. is a national high-tech enterprise focusing on the research, development and production of synthetic mica. After years of exploration and development, the company has now possessed a complete set of core technologies of synthetic mica, as well as a number of world-leading key patented technologies. The synthetic mica products produced by the company have the advantages of high temperature resistance, acid and alkali resistance, good electrical insulation, high whiteness, low content of heavy metals and free fluorine, less impurities, stripping and elasticity, and can be widely used in aviation, aerospace, metallurgy, electronics, cosmetics, plastics, coatings, building materials and other fields. In addition, the company also carried out research and development of new energy battery diaphragm materials, insulation materials and other aspects around synthetic mica, and developed a number of new energy battery insulation and flame retardant materials based on synthetic mica, opening the door of the new energy battery material market.
At present, the company is building an artificial synthetic mica project with an annual output of 30000 tons. After the project is completed and put into operation, it will become a global scale and technology leading synthetic mica manufacturing enterprise, which can effectively solve the problem of China's gradual depletion of natural mica resources and dependence on imports.
The recognition of "innovative small and medium-sized enterprises" is the recognition of the innovation ability, technical strength and achievement transformation ability of Luzhai Chesir Mica Company, and also the embodiment of the courage of Luzhai Chesir Mica Company to innovate and forge ahead. In the future, the company will continue to deepen the application research and development of synthetic mica in the fields of pearlescent materials and new energy battery materials, actively promote technological innovation, strengthen key core technology research, continuously improve its independent innovation ability, and further promote the development and upgrading of synthetic mica industry.