Beauty Industry Upgrade, Pearl Pigment Industry Opens New Application Space
2022-10-27
classification:Corporate News
On October 24, Taobao officially launched the "Double 11" pre-sale activity in 2022, and JD (09618. HK) also started the pre-sale activity on October 20, officially opening the "Double 11" promotion activity. The data shows that in 2021, the total retail sales of cosmetics in China will reach 402.6 billion yuan, up 18.4% year on year; According to the prediction of many institutions, this promotion, combined with the return of the head anchor, may lead to the recovery of the cosmetics industry.
The beauty industry ushers in industrial upgrading, and the penetration of pearlescent pigments continues to increase
At present, benefiting from the rise and consumption upgrading trend of the current generation Z new consumers, the cosmetics industry is developing towards high-end, and consumers have higher requirements for the effect of cosmetics products, the quality and safety of raw materials. Take colorants as an example. Compared with traditional dyes or organic pigments, pearlescent pigments have superior durability and unique pearlescent effect, which adds advantages to them. They gradually replace traditional pigments as the choice of cosmetic brands.
Pearlescent pigment is a high-grade pigment formed by coating mica and other substrates with a layer of oxide film (coating). It subverts traditional pigments due to the interference of light. It is safe, environmentally friendly and fadeless, and belongs to a strategic emerging industry. At present, the upstream and downstream industrial chains of pearlescent pigments are facing two major trends: first, midstream manufacturers are gradually expanding to the upstream, producing synthetic mica, titanium oxychloride and other metal oxide precursors, reducing costs and increasing efficiency while strictly controlling quality and supply, and expanding new markets; The second is the gradual diversification of downstream demand, covering hot areas such as automobiles and cosmetics, which makes the industry have strong sales attributes, high growth and large market space in the future.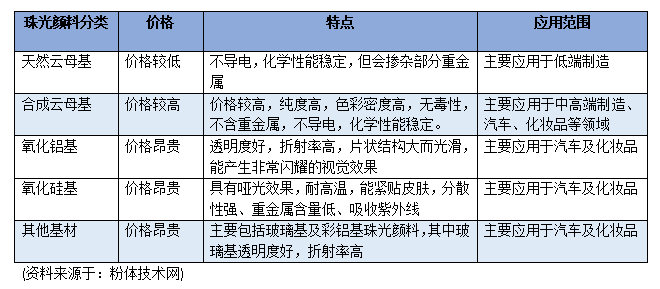 Pearlescent pigments have now been applied in powder, eye shadow, nail polish, lipstick, lip gloss and other products, and have also been recognized by Armani, Givenchy and other high-end brands, and their penetration rate in the cosmetics industry is rising. According to Frost&Sullivan's estimation, the global market size of pearl pigment for cosmetics will reach 8.7 billion yuan in 2025, with an annual compound growth rate of 32.8%, while the domestic market is expected to reach 2.282 billion yuan, with a growth rate of 34%.
Take eye shadow as an example. Because synthetic pigments have higher coloring power than natural pigments, and pigments have better hiding power than dyes, organic or inorganic pigments are generally used to make eye shadow, a kind of covering cosmetics. Among them, natural fish scales, bismuth oxychloride, titanium dioxide, mica and shell powder are common pearlescent pigments in cosmetics. According to the insiders, the composition of pearlescent pigments in eye shadow accounts for about 5% – 10%, which has a large application space.
Global New Material International, innovative technology opens up industrial market space
Global New Material International has been deeply involved in the pearlescent pigment industry for many years, mastered the leading core technology of pearlescent materials and synthetic mica, and has more than 30 core patents and industry qualifications; At the same time, it has a relatively complete series of pearlescent materials and synthetic mica products, covering all levels of high, medium and low end, including industrial grade, weather resistance grade and cosmetic grade. There are more than 900 varieties in eight series.
The intelligent control system for melting and crystallization of synthetic mica independently developed by the company can effectively guarantee the purity of synthetic mica, while technologies such as wet classification and wet synthesis can reduce costs and improve efficiency. With the support of many technologies, the synthetic mica powder produced by the company has met the requirements of the foreign product ingredient standard of the Japanese Ministry of Medicine and can be safely used in cosmetics.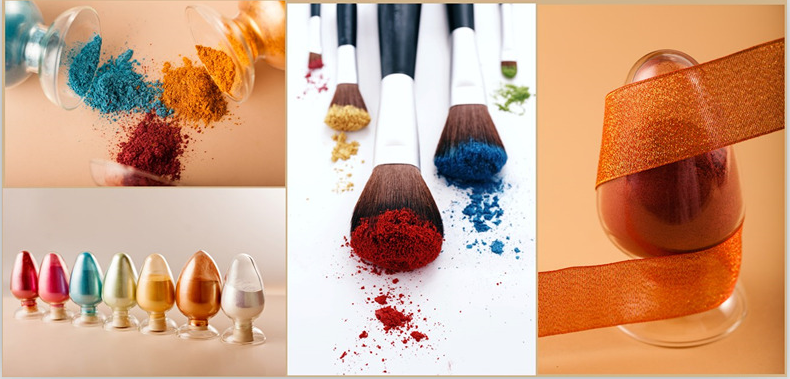 It is worth noting that, with the continuous expansion of demand for synthetic mica based pearlescent pigments, the proportion of self use synthetic mica powder produced by the company is increasing year by year. Compared with other companies that need to extract mica powder from outside, the company can not only ensure product quality, but also control production costs by using its own synthetic mica powder. The company has already implemented and enlarged its research and development advantages into production advantages, and its bargaining power is prominent. The market space is expected to further improve.
At the same time, the company has also increased its investment in research and development, building industrial technical barriers through the cooperation between schools and enterprises. Last year, the company and the doctoral team of the School of Materials and Engineering of Zhejiang University jointly established the Chesir New Materials Joint Research and Development Center of Zhejiang University, aiming to explore and develop high-performance surface materials, synthetic mica and new energy materials related to the three industrial chains and intelligent manufacturing technology. At present, it has achieved phased results, And reached preliminary cooperation intention with several manufacturers.
With the improvement of the application of pearlescent pigments in all walks of life, the Matthew effect of the pearlescent industry will gradually emerge, and domestic leading enterprises are expected to gradually cut into the foreign market share through their own endogenous category expansion and extensional channel mergers and acquisitions. Many domestic enterprises, such as Global New Material International, have successively announced their production expansion plans. In the future, they are expected to integrate some international channels and product resources, seize a larger market share in the industry reform, increase the proportion of foreign businesses, and push the company's main business to a broader market while increasing its market share in China by virtue of their technical and channel advantages.