"ZJU-CHESIR RESEARCH&DEVELOPMENT CENTER" was officially inaugurated
2021-12-06
classification:Corporate News
On the afternoon of September 26, 2021, the signing and opening ceremony of "ZJU-CHESIR RESEARCH&DEVELOPMENT CENTER" was held in CHESIR. The two sides will be committed to building a world-class joint R&D platform for new materials and intelligent manufacturing, accelerating the transformation of cutting-edge technological achievements in universities, assisting enterprises in comprehensive technological upgrading, and exploring the broad market of synthetic mica in new energy batteries across industries.
Dr. Ye Zhizheng, member of Chinese Academy of Sciences, Chairman of Materials Science and Engineering Committee of Zhejiang University, Tang Zhenguo, Party Member of Liuzhou government, Hu Wei, assistant principal and alumni association secretary-general wean of Zhejiang University, Professor Han Gaorong, dean of School of Materials Science and Engineering and doctoral supervisor of Zhejiang University, Yang Yi, head of Luzhai County, Su Ertian, board chairman of  Guangxi Chesir Pearl Material Co., LTD. and chairman and managing director of Global New Material International Holdings Limited, and relevant officials of Liuzhou city government and Luzhai county government, Liuzhou entrepreneurs representatives, media representatives and the company's technology center staff, altogether more than 100 people attended the signing and unveiling ceremony.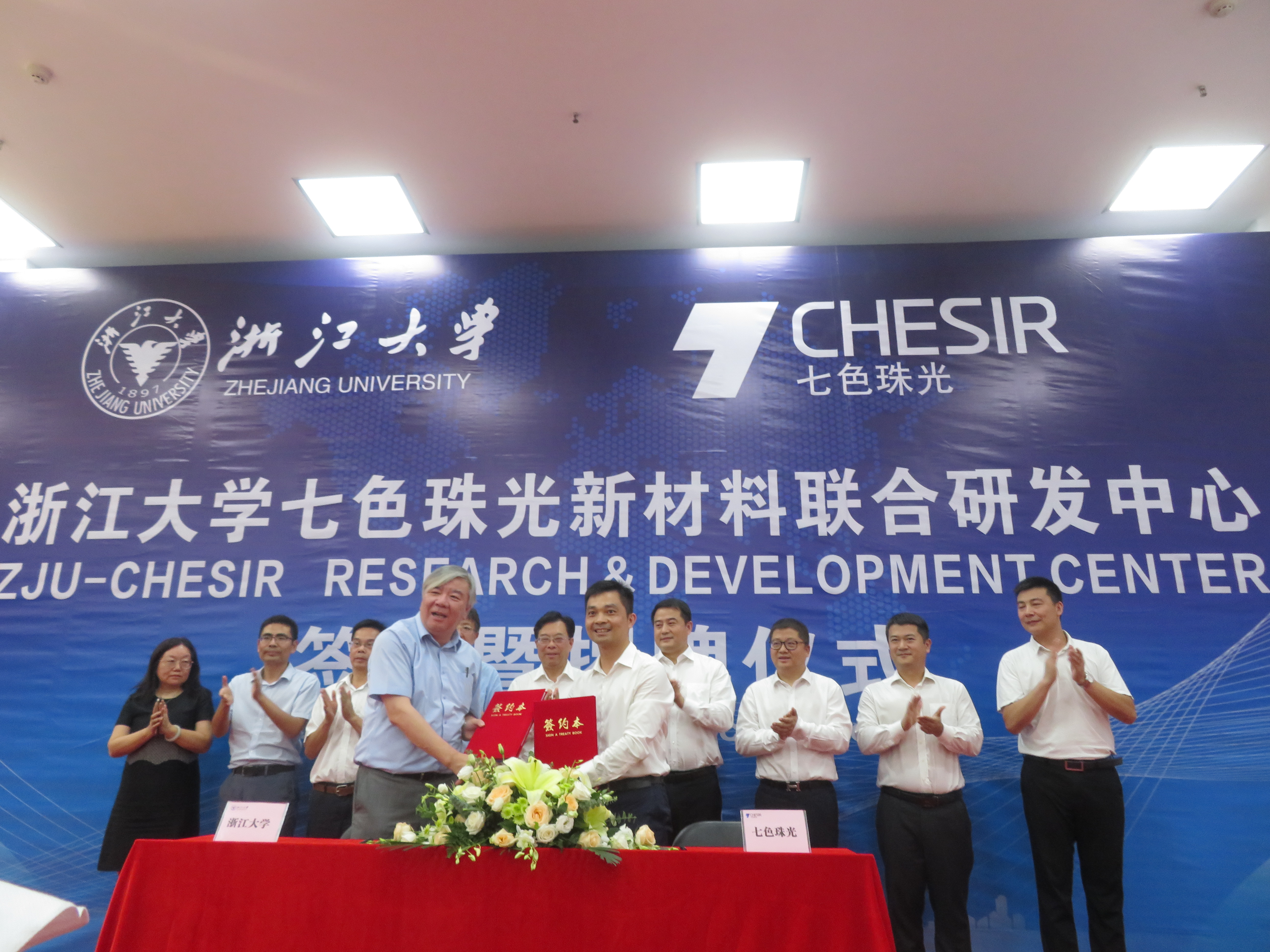 "ZJU-CHESIR RESEARCH&DEVELOPMENT CENTER" is jointly built by Chesir and Zhejiang University. It mainly focuses on the R&D of materials and intelligent manufacturing technology related to the three industrial chains: high-performance surface materials, synthetic mica and new energy materials. The R&D center gives full play to the advantages of both sides, and promotes talent training, scientific and technological innovation and research commercialization. It also enhances the technological innovation and product development ability of the company and improves the effective commercialization rate of the universit's scientific research. Therefore, the sustainable and healthy development of the industry can be achieved.
At the opening ceremony, Zhejiang University and Chesir signed the agreement of joint establishment in the testimony of the leaders and guests. Dr. Ye Zhizheng, Tang Zhenguo, Liuzhou Municipal Party Member, Yang Yi, head of Luzhai County, Su Ertian, chairman and general manager of Chesir and other leaders and guests, together unveiled "ZJU-CHESIR RESEARCH&DEVELOPMENT CENTER" .
"Zhejiang University is a famous university with a leading comprehensive strength in China", said Su Ertian, chairman of Chesir, "and Chesir is listed on the main board of the Stock Exchange of Hong Kong. It is one of the leading enterprises in terms of scale, technological innovation and ecological protection in the field of pearlescent materials and synthetic mica in the world, ranking the first in China. The cooperation between Zhejiang University and Chesir is a strategic cooperation of 'strong alliance', which will certainly play a huge role in promoting the development of the industry and enterprises."
Dr. Ye Zhizheng, member of Chinese Academy of Sciences, Chairman of Materials Science and Engineering Committee of Zhejiang University, said in his speech: "A strengthened cooperation between Chesir and Zhejiang University is not only beneficial for promoting the development of research in the field of new materials technology for the university, but also beneficial for facilitating new material product innovation breakthrough of the company. The two sides will conduct exchanges of talents and scientific research in various ways to expand the scope of cooperation and create a closer relation of cooperation."
Yang Yi, head of Luzhai county, delivered a speech and pointed out: "Global New Material International (CHESIR) and Zhejiang University are a strong alliance. This R&D center becomes an important battlefield of Liuzhou city to foster the 100 billion new materials industry cluster. The government will also make every effort to support ZJU-CHESIR RESEARCH&DEVELOPMENT CENTER to release its unlimited technological innovation energy".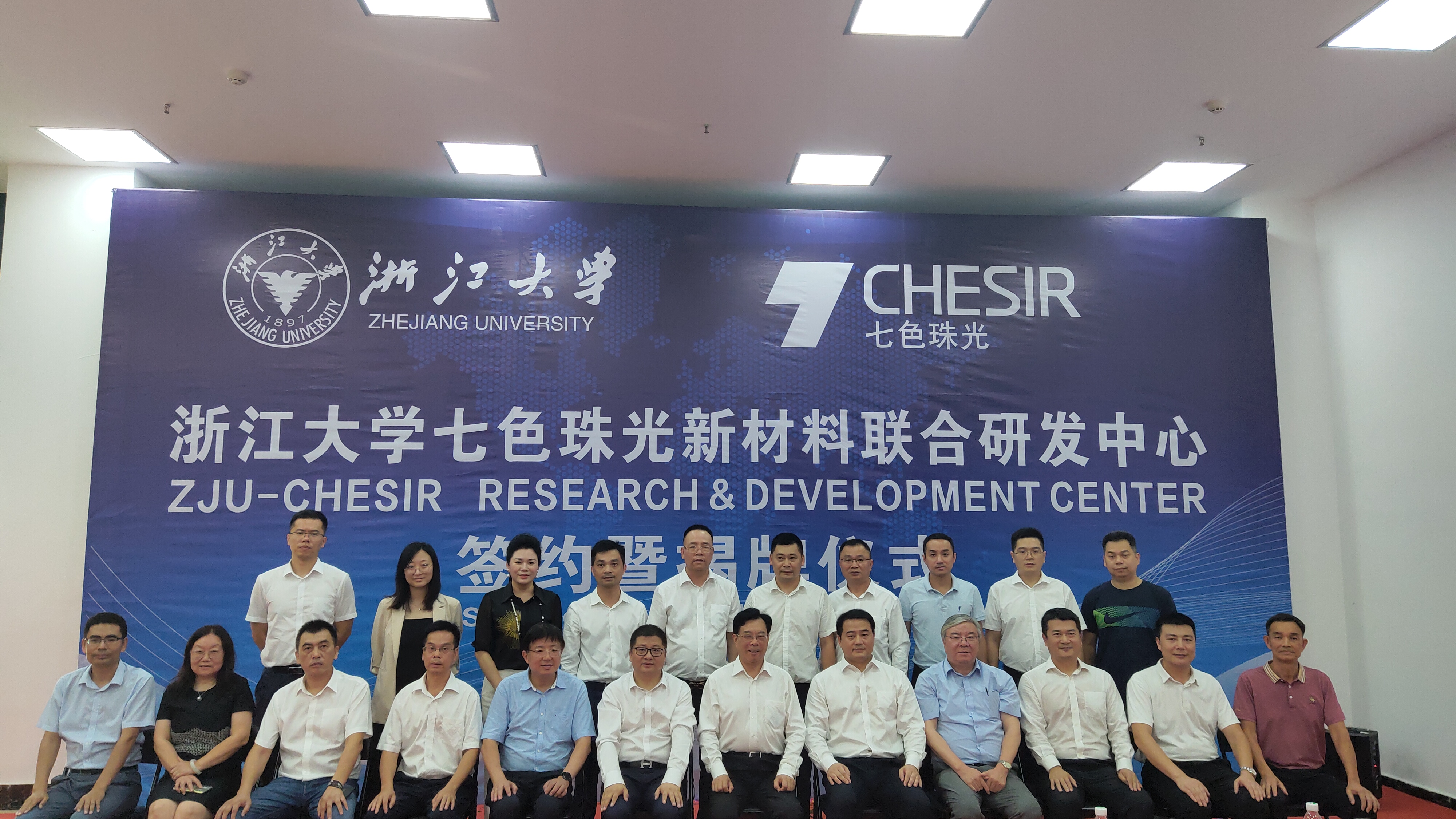 The inauguration of "ZJU-CHESIR RESEARCH&DEVELOPMENT CENTER" marks the start of "university-enterprise cooperation" with Zhejiang University. The two parties will take this opportunity to give full play to their respective advantages and strengthen cooperation in scientific research, personnel training, academic exchange and commercialization of scientific and technological achievements. The company will continue to study the theoretical and practical problems encountered in the development of science and technology, further strengthen the cooperation with universities, and integrate Industry-University-Research so as to achieve fruitful and win-win results.