An Employee of Global New Material International Donated Hemopoietic Stem Cell
2021-12-06
classification:Corporate News
Sunny, confident and cheerful, Mr.Liang is an employee of the technology department of Global New Material International (CHESIR) and also a hematopoietic stem cell donation volunteer registered with the Red Cross Society of China. On July 5 this year, he received a notice from the Red Cross that he matched a blood disease patient and hematopoietic stem cell donation would be conducted on September 28 in Liuzhou Workers' Hospital! In order to ensure the success of the donation, Mr. Su Ertian, Chairman of the board of directors of the company, required that the company spare no effort to support Mr. Liang, so that he could maintain a good physical condition during the donation.
Entrusted by Chairman Su, Vice President Zhou Fangchao and Director of  Technical Center Lin Zhengjiao went to Liuzhou Workers' Hospital on September 25 to visit Mr. Liang, who was preparing for hematopoietic stem cell donation. On behalf of all colleagues, they expressed admiration towards Mr. Liang for his act of compassion.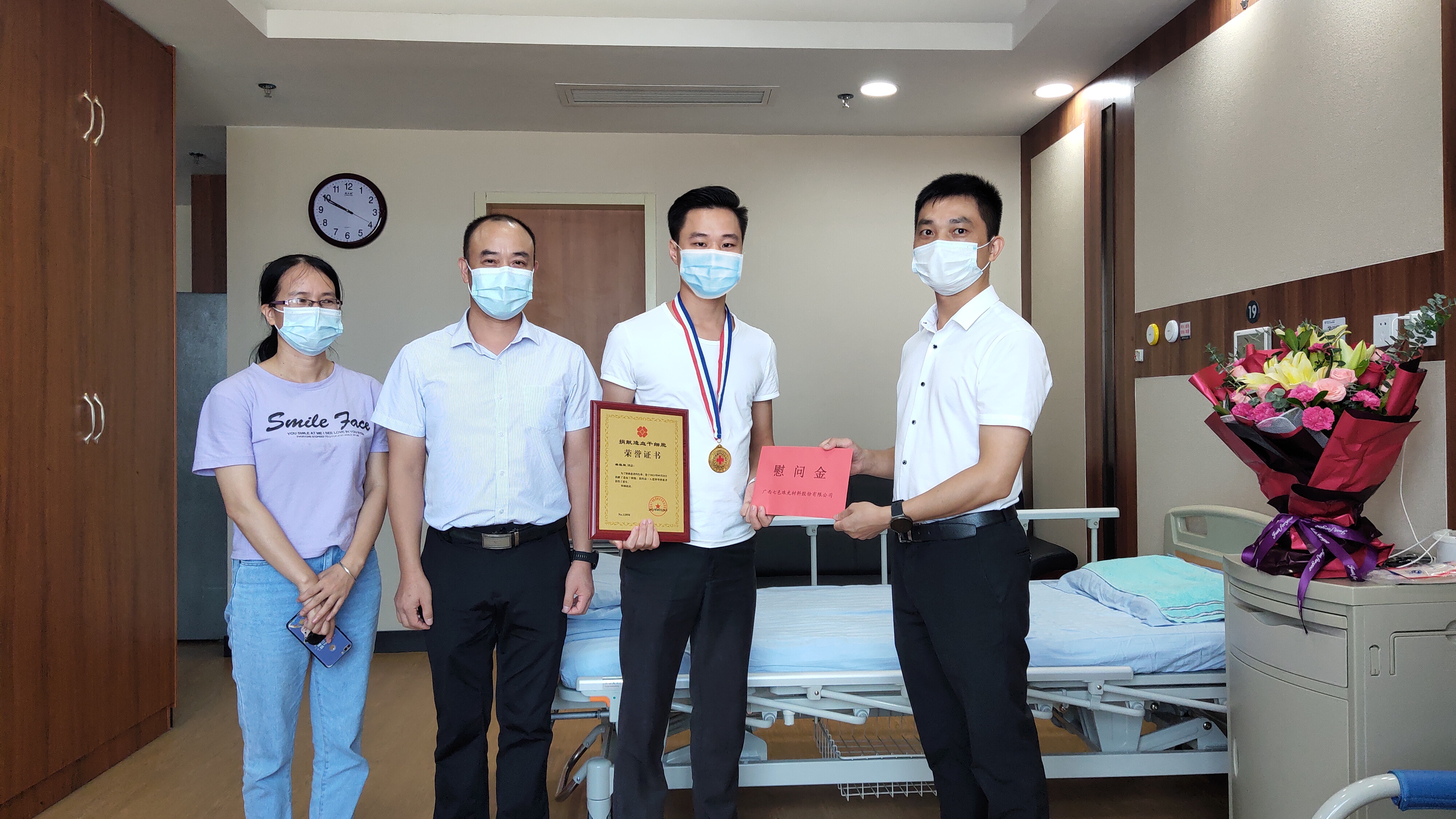 Mr. Liang, born in 2000, is known to be Liuzhou's first hematopoietic stem cell donor among post-millennials . Since 2018, he has been donating blood twice a year on average and has donated 1,900 ml of blood, a remarkable feat for a post-millennial.
On May 16, 2019, in the process of a routine blood donation, Mr. Liang learned about hematopoietic stem cells donation and its significant role in saving lives, and he immediately decided to sign in the hematopoietic stem cell donor database of China to make donations for matching patients.
After receiving the call from the Red Cross, Mr.Liang immediately agreed to donate hematopoietic stem cells to save the patient's life. Soon, his hematopoietic stem cells were sampled again, and high-resolution blood tests and physical examinations were completed. The donation is planned on September 28, 2021.
Vice President Zhou Fangchao brought flowers and solatium, and encouraged Mr. Liang to take good care of his health and wished him a successful donation. Mr. Liang expressed sincere thanks to the company for the care and sympathy.
Facing the upcoming donation, Mr. Liang has no worries or concerns. He firmly believes this is an act of love, and as long as it can help patients and save a life, he has no regrets. He also sincerely hopes that more people can learn about hematopoietic stem cell donation and join the volunteer team, so that more lives can be saved and patients with hematopoietic diseases who are waiting in despair can have a chance to live.
Chairman Su Ertian said: "Mr Liang is a person with great compassion. I believe his 'heroic' deeds will influence every employee in the company, encouraging more people to join the team of volunteers to donate and help more patients with blood diseases." Global New Material International (CHESIR)  will also call on its staff to take Mr Liang as an example, and strive to create a  atmosphere of dedication to the society and service to people. It will encourage more employees to contribute their own share to public good!