Global New Material International Won the Award of Excellent Finance Team of the Year of Barron's China "Hong Kong-US Listed Chinese Companies CFO Elite 100"
2023-09-22
classification:Corporate News
Recently, the results of Barron's China "2023 Hong Kong-US Listed Chinese Companies CFO Elite 100" evaluation were announced, and the Global New Material International finance team won the award of "Excellent Finance Team of the Year".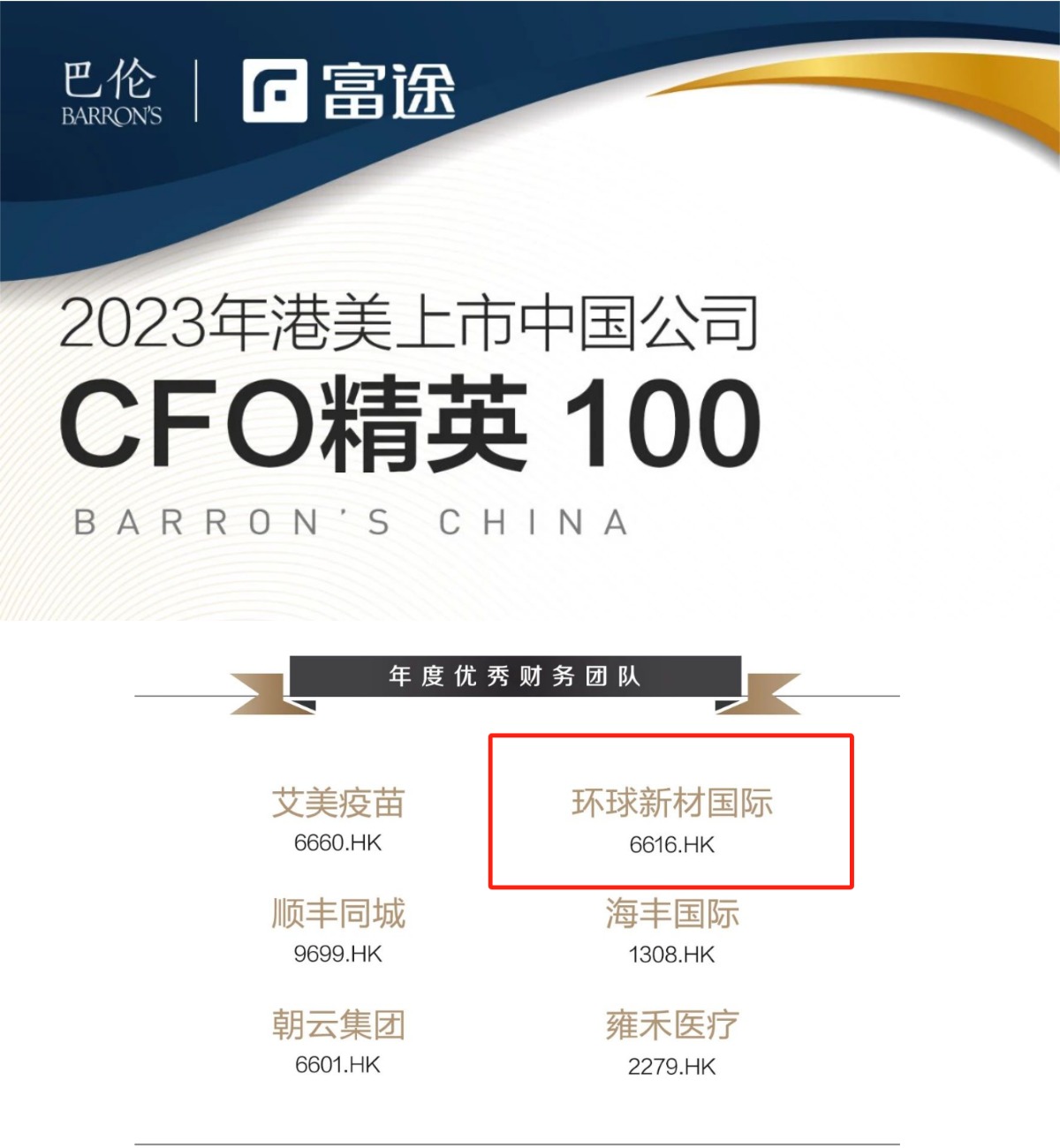 It is known that the Chinese version of Barron's, which Caijing together with Dow Jones Media Group introduced the exclusive content of the century-old "Barron's", is a global investment platform that has great influence on investors, financial professionals and entrepreneurs.
Barron's China "2023 Hong Kong-US Listed Chinese CFO Elite 100" aims to commend financial leaders or teams that have demonstrated outstanding performance in the field of financial management. The evaluation criterion of "Excellent Finance Team of the Year", compared with other awards, pays extra attention to the strategic responses and adjustments made by financial leaders or teams in the changing business environment and focuses on the individual and team competence reflected in specific cases. Global New Material International won this award by virtue of its remarkable performance in corporate development and advanced financial management practices.
In recent years, the business scale of Global New Material International has been expanding increasingly, and its operating area has extended from domestic to overseas. From the company stepped into the stage of the Hong Kong Stock Exchange with two high-end new materials, and became the only leader of pearlescent material in Hong Kong stock market in 2021, to the merger and acquisition of South Korea's famous pearlescent material company CQV in 2023, and achieved full coverage of the Shanghai-Shenzhen-Hong Kong Stock Connect in March when the connectivity mechanism expanded within mainland and Hong Kong market. The company's finance team kept up with the pace of its international development strategy, and continuously made excellent achievements in innovating financial management, enhancing company value and strengthening risk control, which consolidated the financial foundation for the company's global layout and continuously "accelerated" its internationalization process.
The award of Barron's China "Excellent Finance Team of the Year" is a recognition and support to the company's financial work, manifesting the company's  high-quality development and professional service teams are highly recognized by international professional institutions. In the days ahead, Global New Material International will, more ambitiously and passionately, promote the company's financial management to a new level, spare no effort to protect high-quality development, thus help create new achievements in international development!