GLOBAL NEW MATERIAL INTERNATIONAL Successfully Passed the 2023 Autonomous Region Technology Innovation Demonstration Enterprise Review
2023-08-05
classification:Corporate News
Recently, industrial and information department as well as financial department of Guangxi Zhuang Autonomous Region announced the evaluation results of the region's technology innovation demonstration enterprises in 2023, and GLOBAL NEW MATERIAL INTERNATIONAL HOLDINGS LIMITED. successfully passed the review and evaluation.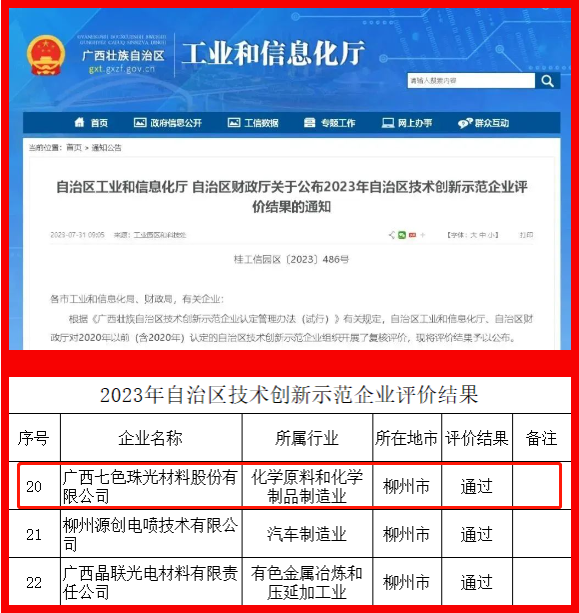 According to the Management Measures for the Recognition of Technology Innovation Demonstration Enterprises in Guangxi Zhuang Autonomous Region, technology innovation demonstration enterprises in the autonomous region undergo a review and evaluation every three years to confirm the qualified ones and revoke the unqualified titles. Since being first recognized as a technology innovation demonstration enterprise in the autonomous region in 2018, GLOBAL NEW MATERIAL INTERNATIONAL has successfully passed the review twice, further highlighting the company's strong scientific research strength and outstanding innovation capabilities as a leading enterprise in the pearlescent material industry.
GLOBAL NEW MATERIAL INTERNATIONAL has always attached great importance to technological innovation and has achieved good results in research and development investment, new product development, product structure optimization, and intellectual property management. It has built research and development platforms such as autonomous region-level enterprise technology centers and engineering technology research centers with high standards, forming a large number of core technologies with independent intellectual property rights. Multiple research and development achievements have won the Guangxi Invention and Creation Achievement Award. At the same time, the company has also established close industry-university-research cooperation with multiple scientific research institutions, jointly committed to the research of new technologies, products, and applications of pearlescent materials, synthetic mica and new energy materials, to promote high-quality development of both schools and enterprises with science and technology leadership.
The company will continue to work hard, adhere to innovation-driven, high-quality development, effectively play a leading role in demonstration, increase investment in technological innovation, strengthen key and core technologies, continuously improve independent innovation capabilities, and make unremitting efforts to build a global leading enterprise in surface performance materials!