Global New Material International (Chesir) Won the Title of "Innovative Small and Medium-Sized Enterprises" in the Autonomous Region
2023-01-15
classification:Corporate News
At the beginning of the new year, the good news came. Recently, the Department of Industry and Information Technology of Guangxi Zhuang Autonomous Region released the list of innovative small and medium-sized enterprises in the region. Global New Material International (Chesir) successfully passed the review at all levels with excellent indicators of strong scientific and technological innovation ability, good core competitiveness and good development trend, and was listed on the list of innovative small and medium-sized enterprises in the region in 2022.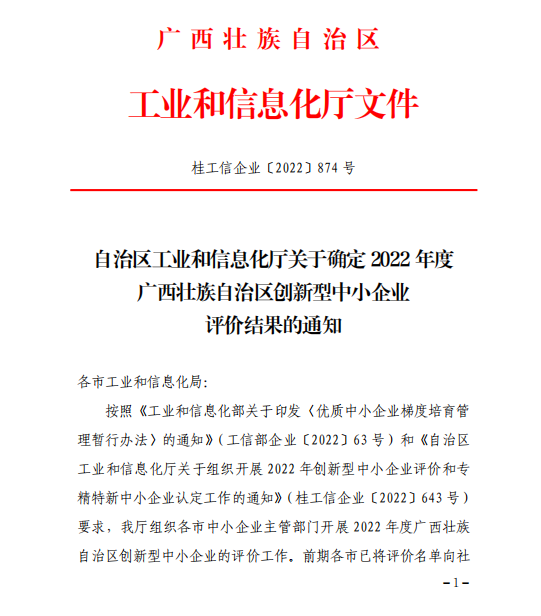 "Innovative small and medium-sized enterprises" aims to screen small and medium-sized enterprises with high level of specialization, strong innovation ability and development potential, take technological innovation as the core, and form a comprehensive and sustainable innovation ability based on technology, brand, system, management, culture, etc., which is the "certification" sign of enterprise innovation ability, and also the basic strength of high-quality small and medium-sized enterprises.
In recent years, Global New Material International (Chesir) has continuously improved the construction of the system and organizational system for innovation and development, strengthened the construction of industry-university-research cooperation and innovation platform, enhanced the ability and vitality of enterprise innovation and development, grasped the key technology and core technology of the industry, and significantly improved its market competitiveness. Through continuous innovation and excellence, the company has achieved good results in R&D investment, new product R&D, product structure optimization and intellectual property management, and has formed a large number of scientific and technological achievements with independent intellectual property rights. A number of R&D achievements have won Guangxi "Invention and Creation Achievement Award", and the company has been rated as "National High-tech Enterprise" and "Guangxi Technological Innovation Demonstration Enterprise". In addition, the company recently entered the ranks of small and medium-sized enterprises with "Specialization and Novelty" in the autonomous region, which further stimulated the vitality of enterprise innovation, and also laid a solid foundation for the company to grow into a national-level specialized "small giant" enterprise.
Global New Material International (Chesir) will take this honor as a new starting point, adhere to the development path of "specialization and innovation" under the guidance of the national "innovation-driven development strategy", take scientific and technological innovation as the driving force, focus on the three business areas of pearlescent materials, synthetic mica and new energy materials according to the development orientation and market demand, continue to increase scientific research investment, and cultivate high-quality innovative talents, strive to improve the innovation ability and specialization level of the enterprise, forge the core competitiveness and technical barriers of the enterprise, gather the strong joint force of high-quality development of the enterprise, and strive to achieve the development goal of becoming the leading enterprise of global surface performance materials.