Liao Wenjun, Member of the Party Group and Deputy Director of the Science and Technology Department of the Autonomous Region, and His Party Visited Global New Material International (Chesir) for Research and Guidance
2022-06-09
classification:Leaders's Visits
"With the responsibility of a national high-tech enterprise, we will lead the industrial revitalization and high-quality development of Guangxi!" On June 7, Liao Wenjun, member of the Party Group and Deputy Director of the Science and Technology Department of the Autonomous Region, and his party visited Global New Material International (Chesir) to discuss corporate technology. He carried out research and guidance on innovation work and encouraged enterprises to increase investment in research and development, strengthen the introduction and cultivation of scientific and technological innovation talents, steadily improve innovation capabilities, and accelerate technology-enabled enterprises.
On behalf of the company, Bai Zhihuan, deputy general manager of Chesir, warmly welcomed the arrival of Liao Wenjun and his party, and made a detailed report to the research team on the company's scientific and technological innovation, transformation of scientific and technological achievements, production and operation, and product application. Liao Wenjun highly appreciated the company's insistence on leading the development of enterprises with technological innovation with high quality, and a series of innovative achievements in synthetic mica, pearlescent materials, and new energy battery materials.
"Transform the 'key variable' of scientific and technological innovation into the 'largest increment' of high-quality development." Liao Wenjun encouraged enterprises to continue to implement the innovation-driven development strategy, increase investment in scientific and technological research and development. Then more innovative talents should be cultivated and the technology-supported industry should be further promoted with high-quality development.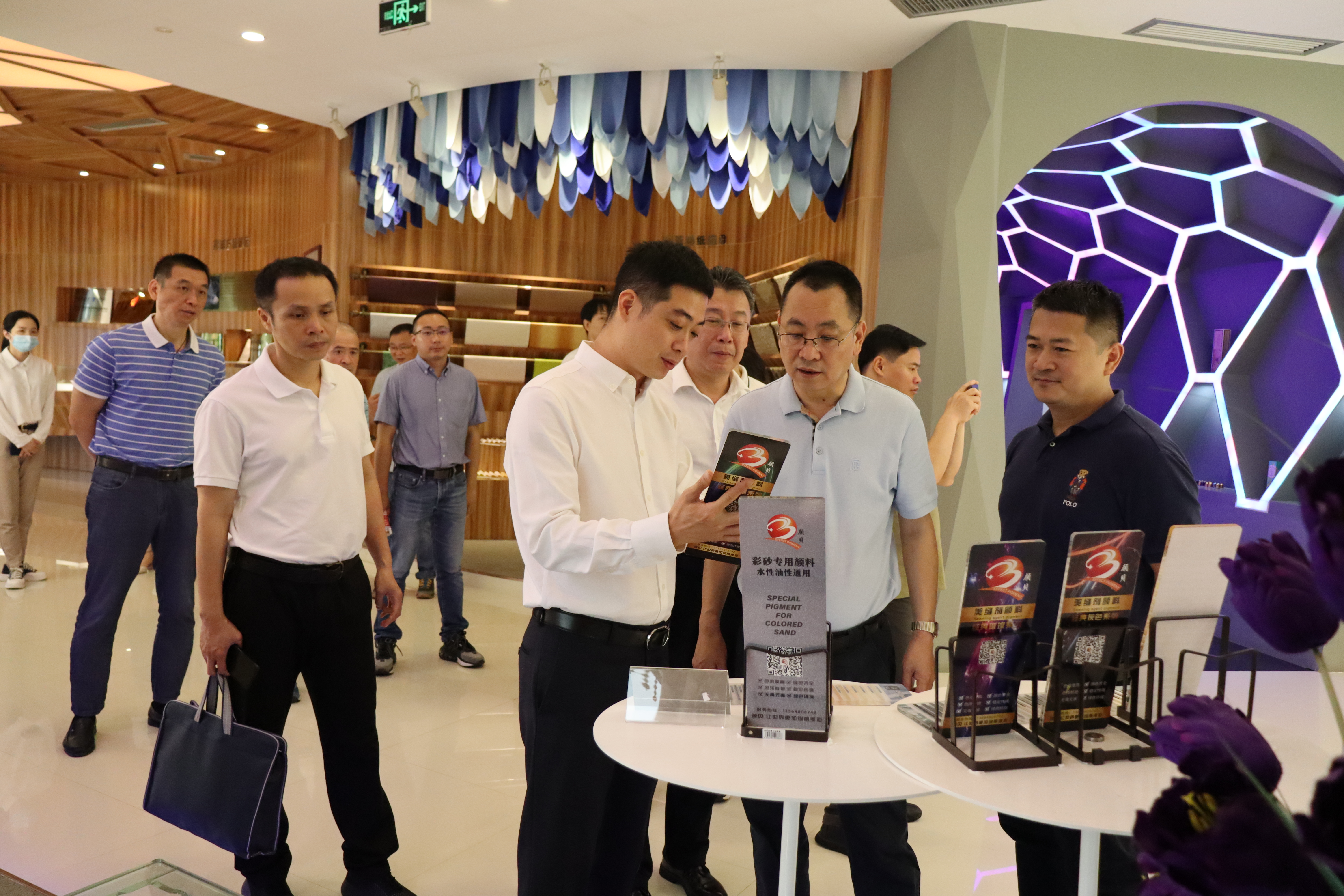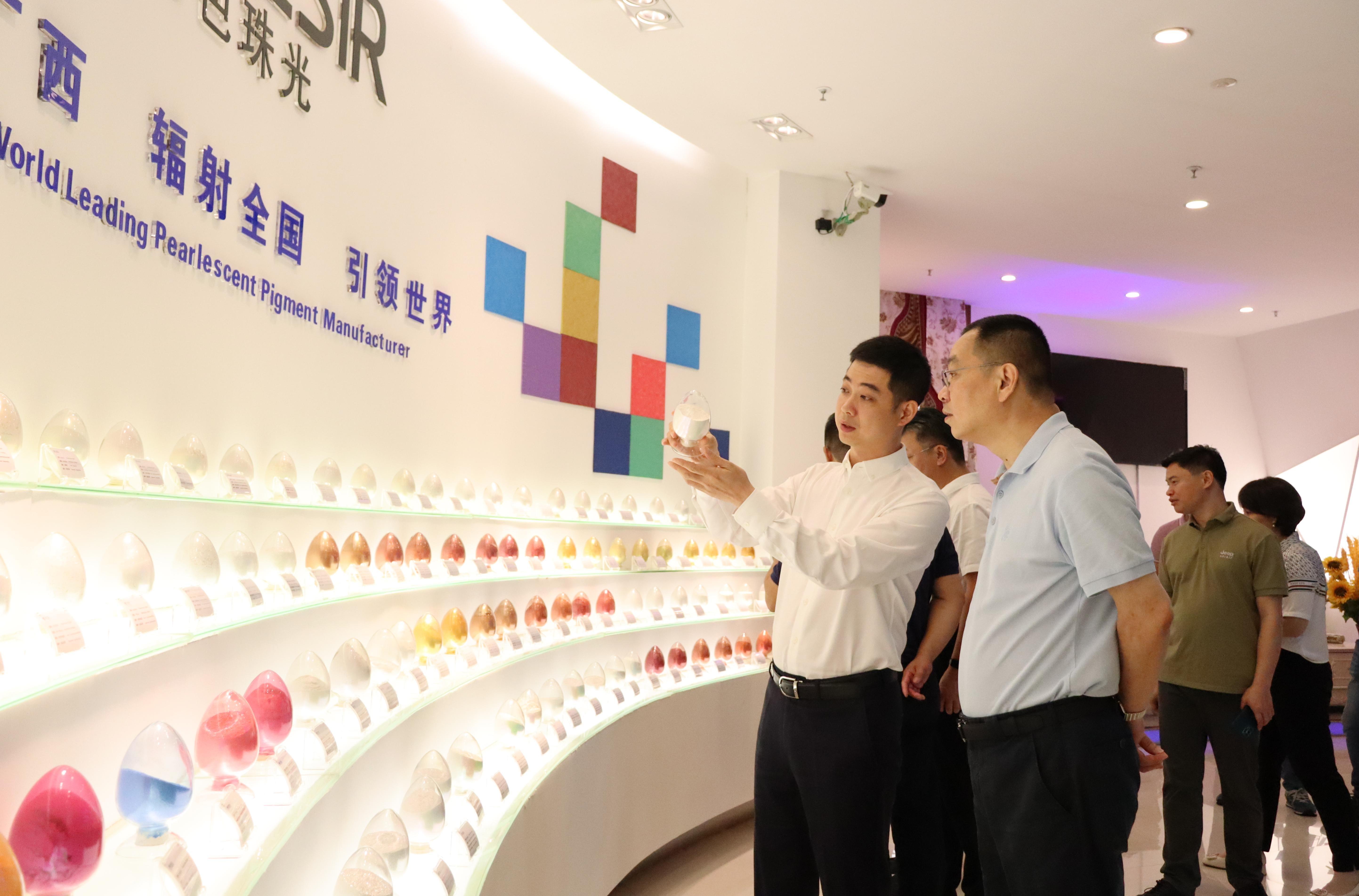 Bai Zhihuan expressed his sincere gratitude to the leaders of the Science and Technology Department of the autonomous region for visiting the company to guide the work. He said that under the guidance and leadership of the party committee and government of the autonomous region, the company will adhere to innovation leadership, fully promote product innovation, technological innovation and talent training, strive to achieve high-level scientific and technological self-reliance. Also, Chesir will comprehensively improve the industrial chain ecological level of new pearlescent materials. Expand new space for the pearlescent material industry, and make more contributions to promoting the high-quality economic development of the autonomous region with practical actions and innovative achievements.
Zhan Yongsong, director of the Achievement Transformation and Regional Innovation Division of the Science and Technology Department of the Autonomous Region, Su Hao, deputy director of the Guangxi Institute of Science and Technology Information, Qin Donglin, the second-level inspector of Liuzhou City, Guan Weirong, director of Liuzhou Science and Technology Bureau, Zhong Lina, deputy director, and the county magistrate of Luzhai County Yang Yi, deputy county magistrate Li Weiming and other leaders participated in the research activities; Dong Wenta, vice president of Global New Material International (Chesir) and other leaders accompanied the research.