Build a safe production line | The leaders of the Autonomous Region Emergency Management Department went to CHESIR to carry out holiday production safety inspections
2022-05-03
classification:Leaders's Visits
Huang Zhonglian, deputy director of the Emergency Management Department of Guangxi Zhuang Autonomous Region, accompanied by Yang Yi, the mayor of Luzhai County, visited Global New Material International (CHESIR) on May 2 to carry out safety production inspections during the May Day holiday.
Accompanied by Vice President Jin Zengqin and other company leaders, Pan Yangjuan, Director of the Political and Legal Department of Guangxi Emergency Management Department, Su Feng, Director of the Disaster Relief Department, Song Zhufeng, Director of Liuzhou Emergency Management Bureau and other leaders participated in the inspection activities.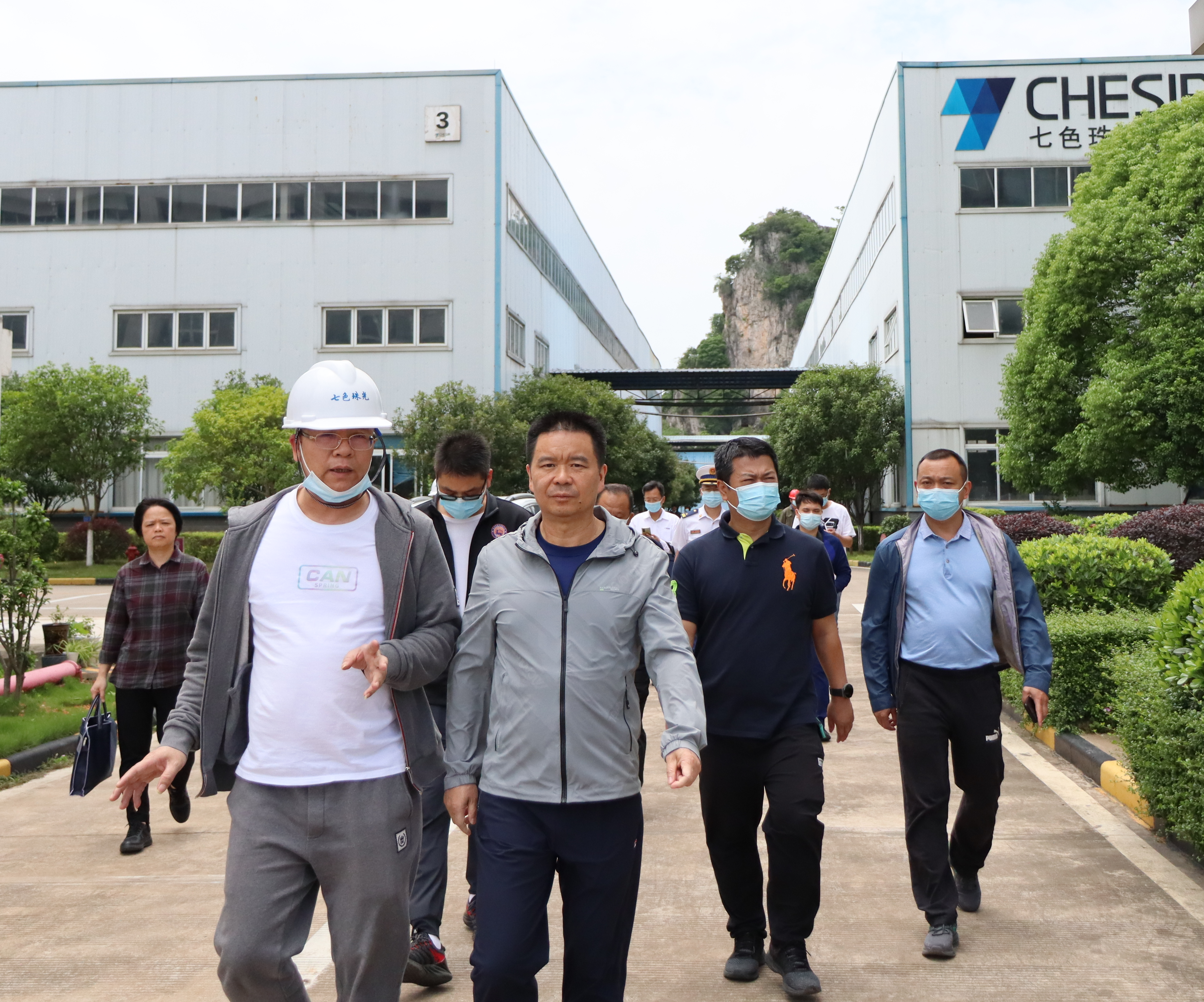 The inspection team went deep into the company's factory area and production workshops who inspected fire-fighting equipment, equipment and facilities, safety passages, etc. in detail, and they inquired about the company's safety protection measures, responsibility implementation, and emergency response plans. Regarding the inspection of each link, the inspection team gave detailed feedback one by one, and in-depth exchange and communication with the company's vice president Jin Zengqin to guide the company's safety production work.
Deputy Director Huang Zhonglian affirmed that the company adheres to the bottom line of safety and strictly implements various work measures for safety production. He encouraged CHESIR to continue to coordinate development and safety and establish red-line awareness and bottom-line thinking. What' more ,he emphasized CHESIR should improve safety awareness and prevention capabilities and pay attention to various work such as meticulous and practical safety production, as well as CHESIR should do a solid job in safety production during the "May 1st" holiday.
Jin Zengqin said that Global New Material International (CHESIR) will continue to adhere to the safety production concept of "safety first" . Then, CHESIR will adhere to the strict implementation of work safety and epidemic prevention and control measures. In addition, CHESIR will Strengthen learning and training, and intensify the investigation of potential safety hazards. What's more, CHESIR resolutely puts an end to paralysis and chance, and strictly controls the source of safety production to build a "firewall" for safety production for a safe and stable environment for the high-quality development of enterprises.