Pearlescent pigments make a better life – Chesir will attend ChinaCoat 2019
2019-11-16
classification:Exhibition News
ChinaCoat 2019 will be held on November 18-20, 2019 in Shanghai New International Expo Center (SNIEC). ChinaCoat is a world-class coatings show, currently held alternately in Shanghai and Guangzhou every year. As the most important annual event of the pearl material industry, this exhibition will attract exhibitors and industry participants from more than 100 countries and regions to gather major manufacturers and users of the global pearl material industry, facing the world, especially from China and Asia Tens of thousands of viewers in the area.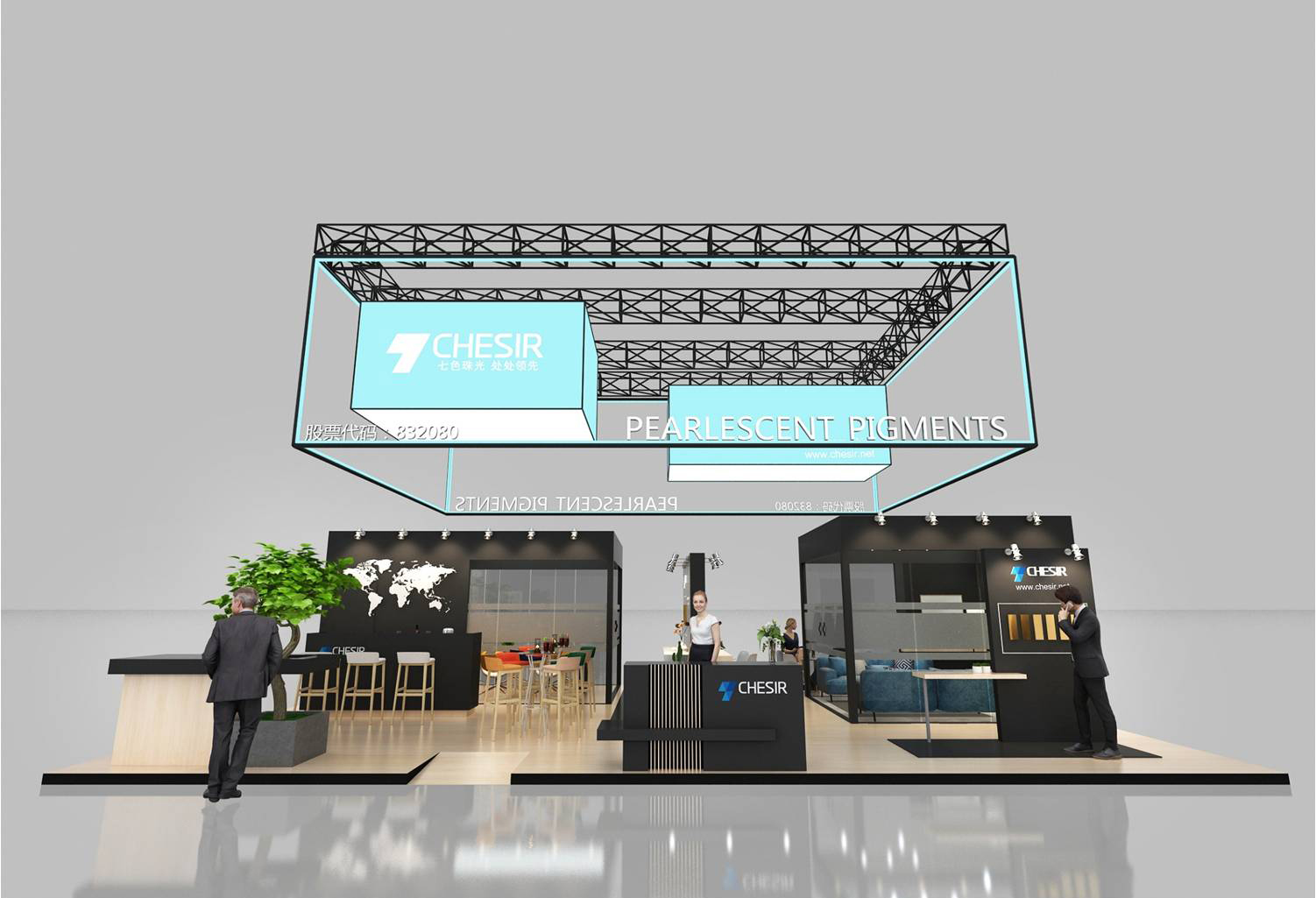 This year, Chesir is still here. The booth is located in Booth D29, Hall E5, District 8. With the theme of "Pearlescent pigments make a better life", a new booth design solution was launched. While maintaining the simple and atmospheric image that Chesir has held in previous exhibitions, it also brings a new space design to the audience's refreshing viewing experience.
Pearl materials are closely related to people's lives and are an indispensable consumer product for our food, clothing and housing. With the deepening of research on the application of pearl materials, pearl materials have been widely used in cosmetics, food, medicine, paper, clothing, automobiles, ceramics, children's toys and other fields that are closely related to our daily life with good color effects, plasticity, health and environmental protection. Applications. At this exhibition, we brought a series of new products that are closely related to our life and consumption field around the theme of "Pearl materials for a better life". Let's take a quick look below.
Fiery series have high performance, Ultra-high three-dimensional interference, high purity, brightness, and coverage rate meet the Chinese preference for traditional red. Not only suitable for make-up, such as lip makeup, eyelashes, eye shadow, eyeliner and nail polish, and other cosmetics and personal care products; it can also be applied to plastics, spray coating, high-end electronic and electrical products, such as mobile phone casings, electrical casings, etc.  Can also be used in leather, wallpaper, refinishing and other fields.
High-purity and high-brightness series products use lattice doping technology to coat metal oxides on the surface of (natural mica, synthetic mica, glass flakes) substrates, and precisely control the color, so that the product color blooms with strong and beautiful. It has a wide range of uses in the consumer areas such as crafts, cosmetics, pharmaceuticals, high-end leather, packaging, food packaging, ceramics, paper and coatings.
The weather-resistance series products of the car adopt new environmental protection technology, in order to ensure that the product has a good dispersion effect, hydrophilic and lipophilic, water resistance, heat and humidity resistance, can maintain the color does not fade for a long time, and prolong the product life cycle. Mainly used in automotive coatings, exterior wall architectural coatings and outdoor decorations and other fields that require excellent weather resistance.
SF series is specially used in powder coating industry. This series of products are modified on the surface of pearlescent pigments of various substrates, making them have good adaptability in powder coating resin systems, and successfully solved the technology caused by electrostatic agglomeration of pearlescent pigments in powder coating applications problem. Can be widely used in outdoor railings, anti-theft doors, anti-theft windows, children's toy cars, metal staircases, roll profiles, car wheels, mobile phone housings, household appliance housings and other fields. "Pearlescent pigments change our lives. Pearlescent pigments create a better life. Pearl materials add richer and more colorful colors to our lives." Chesir is about to start the ChinaCoat 2019 show, we are full of enthusiasm waiting for your arrival. From November 18th to 20th, we will see you in Shanghai!