" Beautiful South-ASEAN Media's Guangxi Tour "Interview with Chesir
2015-10-10
classification:Corporate News
On August 29, an interview group for overseas Chinese media of "Beautiful South-ASEAN Media's Guangxi Tour" composed of overseas Chinese media such as Hong Kong's Wen Wei Po,Japanese Half Moon Digest, Malaysian Asian Times, Indonesian International Daily, Canadian Business Daily, Philippines Business Daily,visited and interviewed in Luzhai accompanied by Tan Yingxue, Member of the Standing Committee of Luzhai County Party Committee, Minister of Propaganda Department and Deputy County Chief.Guangxi Chesir Pearl Material Co., Ltd., as a representative company of high-tech, had become one of the key companies interviewed by the interview team.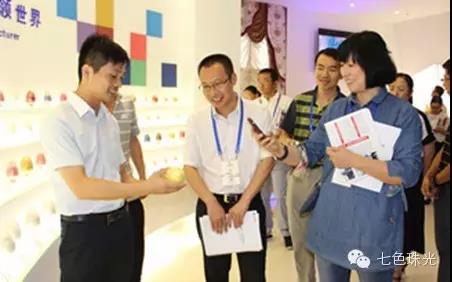 As a high-tech enterprise, Chesir is mainly engaged in the research and development, production, sales of pearlescent pigments, coatings, mica and related products, raw materials and semi-finished products, as well as the import and export of production technology and products.Extensive sales market in Southeast Asia is one of the reasons why Chesir became an interview target with overseas Chinese media.In the Chesir's products exhibition hall, the company's executive deputy general manager Zhou Fangchao extended a warm welcome to the reporters and led the reporters to visit Chesir's products carefully.And introduced the company in detail in terms of talent strategy, patented technology, university-scientific research institute-industry-research cooperation, and product application.He also highlighted the demand for high-end pearlescent pigments in the international market, and our company's unique synthetic mica technology is the basis for producing high-end pearlescent pigments.Our company is also actively exploring overseas markets. "Going Global" will be the strategic layout of Chesir.After listening to the introduction, the reporters praised Chesir's practice of citing college resources, continuously developing new products, improving product quality to meet different customers' needs and expanding international markets.
During the interview, reporters said that Chesir has contributed excellent pearlescent products to the world. They were willing to promote Chesir's brand and products to all parts of the world through their platform.